What's the latest craze on Pinterest? I'll give you a hint…it has something to do with a bird…..Still not sure? Ok, I'll tell you. The answer is Stampin' Up!'s NEW Swirly Bird Stamp set & coordinating Scribbles Thinlits 🙂. They are everywhere at the moment. It seems like every second pin I come across has used this awesome bundle in one way or another.
I have to admit that this set wasn't at the top of my must have list when I first saw the catalogue & ideas book; However once I started to see actual cards being made with it & posted on Pinterest, I was hooked! My plan had been to only get the Scribbles Thinlit Dies, buutttt I DO LIKE A BUNDLE & A SAVING (lol!) so I took the plunge & order both the Swirly Bird stamp set & the Scribbles Thinlit Dies.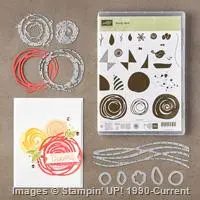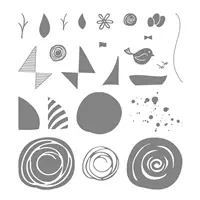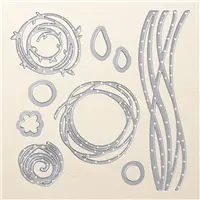 Well thank goodness I did order both! I'd be lost with either one. The Scribbles Thinlits Dies are just amazing! Truly! The Scribbly bits are just so cool & so versatile. Great for guys & gals, they can be the focal point of a card or sit quietly in the background. The little flowers dies & leaf dies make quick work of cutting out the stamped images to create lovely layered cards. I haven't tried the long scribbles as yet, I'm hoping to create a card for my dad's birthday using them tonight.
As for the stamp set, don't be put off by the images you see of the cute little sailing boat. I've seen the sailing boat worked into a more grown up version & I do think it'll be fab for younger boys & baby cards :-). The best thing is that the stamps fill in the dies & together they create the swirled flowers that you can see on my card, you really can't have one without the other. The stamp set also features this adorable little bird, which interestingly you have to fussy cut out as there isn't a matching die for him. Not to worry, he's small & easy to cut, so you'll have him done in a jiffy! Seriously I cut 12 of him out today in about 20mins or less!
Of course the stamp set also lends itself to being a lollipop, a kite, a boat, flowers, background patterns & I'm sure lots of other clever ideas will surface over the next few weeks too. In fact I have an idea about another theme that I could use this bundle for & I'm hoping to work on it over the upcoming long weekend & post it on my blog sometime next week, so make sure you come back to see what I've done 😉
Much Love K xo
Want the nitty gritty on how to make this card? Ok you'll need the following supplies…oh & to scroll down & keep reading for a step by step tutorial 🙂
Once you've gathered your supplies, it's a pretty simple card to make.
1: Using the Gold Foil Sheets Die cut the smaller scribble as many times as required. I ran it through my big shot 3 times to make sure I had a nice clean cut. Probably over kill, I do sometimes get a little carried away.
2: Stamp the leaves using Cucumber Crush. (In colour 2015-2017)
3: Stamp the Flowers in both Flirty Flamingo (In colour 2016-2018)  & Calypso Coral.
4: Stamp the little bird in Night of Navy.
6: Die cut all the leave & flowers out. You can cut 4 separate images at time if you pre stamp all your images first. By doing this you can save yourself some time if you are making a large batch like me.
7: Fussy cut all your little birds out. Honestly it won't take long, especially of you get yourself a pair of awesome paper snips from Stampin' Up!
8: Get your ever ready Multipurpose Tombow glue out & use the smaller pointy end to apply really small drops of glue to the back of the gold foil scribbles.
9: Adhere your scribbles to your notecard.
10: Start gluing & layering all your leaves & flowers onto your scribble.
11: Finish by attaching your little birdy. I used my Multipurpose Tombow glue again. It always gets the job done 🙂
And there you have it! A gorgeous little card, just perfect for saying Thank you or Hello or whatever else you would like.
If you love these cards & would like to make some with me, why not book a Private Group Card Making Class? All you need to do to get started is invite a group of family or friends or both to  your place, & I'll bring the fun & the supplies. For more details please contact me at: katrinaduffell@outlook.com.au